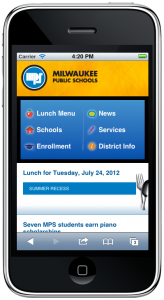 This summer we saw live coverage of the Olympics delivered to mobile devices like never before. While the process wasn't perfect for everyone, we can expect things to be even better for mobile viewers when the winter games start up in Russia.
It's safe to say that the world of sports has become mobile friendly. ESPN now considers the phone their 'first screen' when they design web content. All the professional sports have gone mobile too.
It's not just sports. People are beginning to expect everything that is online to be available when they're browsing on a mobile device. President Obama agrees. In a statement back in May, the president ordered U.S. government agencies to create a mobile plan for the delivery of their services that will be implemented in one year.
In his memo, President Obama states:
Americans deserve a government that works for them anytime, anywhere, and on any device.
This is a challenge for our schools too. Recently I was talking to one of the other dads at our neighborhood elementary school. While our kids played in the distance, he said, "I'm always on the road for work. If I can't read something on this (pointing to his phone) I'm probably never going to see it." My friend isn't alone. As more and more parents, teachers, and students are accessing the web via mobile devices, they will expect to find our school services available in a format that is mobile friendly.
Take a look at your classroom web pages, online progress reports, and other web based services. Do they work on a mobile phone? If not, it's time to look for a replacement tool that does.